With the vision and diligence of William E. 'Bill' Beasley (1881-1963), Joseph V. Lawrence (1902-1975) and Ashton C. Barrett (1901-1990), the Sunkist Country Club came to fruition shortly after the completion of the new Popp's Ferry Bridge. This eighteen-hole golf links is situated north of Popp's Ferry Road. Sunkist Country Club was incorporated in Harrison County, Mississippi in June 1953 by Ashton C. Barrett, William E. 'Bill' Beasley, Robert R. Buntin (1895-1966), and Victor B. Pringle (1909-1977).
Ashton C. Barrett (1901-1990) and Virginia Anderson Barrett (1904-1997) sold two parcels of land totaling 128-acres north of Popp's Ferry Road to William E. 'Bill' Beasley (1881-1963), president of Golf Course Incorporated, in July 1953.
The Biloxi Country Club, which would shortly be renamed the Sunkist Country Club, announced plans to build its clubhouse in late December through the sale of bonds at $300 each.. The $90,000 structure was designed by John T. Collins, Biloxi architect. The dimensions of the building were planned as: 162 feet by 36 feet. Officers of the club at this time were: William E. Beasley, President; Robert R. Buntin, Vice President; Giles Peresich, Treasurer; and Lee Kostmayer, Secretary. Board of Directors: Joseph V. Lawrence; Glen Swetman; Vernon B. Pringle; Earl C. Nolan; and Anson Holley Jr; Arthur V. Hays; Ashton Barrett; and H.C. Thompson.
In February 1954, Golf Course Incorporated sold the golf course situated on about 120-acres to Sunkist Country Club Incorporated. Mr. Beasley also gave a five-year lease to the Sunkist Country Club on 8.8-acres where the country club house was situated.
In May 1953, W.E. Beasley, the course developer, Marcel 'Mickey' Bellande (1909-1982), Joseph 'Joe' V. Lawrence (1902-1975), and Giles H. Peresich (1918-1985) were the first foursome to tee off on the Sunkist links. The formal opening came in late October 1953, when over six hundred members and guests were present at the culmination of four days of initial club activities. Ashton C. Barrett (1901-1990) presented William E. Beasley, the Father of Sunkist Country Club, a plaque and portrait of himself to be hung in the clubhouse. Mr. Beasley conceived the idea for the private golf club and had worked the past two years for its completion. His portrait remains in the clubhouse bar & grill until this day.
Frank I. Steidle (1915-2007), the first golf professional at the club shot a 64 in November 1957 to break the initial course record.
The Sunkist Country Club was reorganized in July 1967 by Elton Pitts, James B. Rouse, Charles A. Gillis, George Altbach, Fred Huebner, A.J. Ingrassia, Alton L. Bellande (1912-1970), James C. Brashier, Jennings Camet, Roswell Kimball, Robert Parrish, and Dr. James Smith.
Blue (69.2/125)
White (68.3/121)
Gold (M:64.9/109 W:69.9/110)
Par
Men's HDCP
Ladies' HDCP
Red (M:63.7/106 W:68.6/107)
Silver (M:59.8/97 W:61.5/95)
Hole 1
Hole 2
Hole 3
Hole 4
Hole 5
Hole 6
Hole 7
Hole 8
Hole 9
Out
Blue (69.2/125)
White (68.3/121)
Gold (M:64.9/109 W:69.9/110)
Par
Men's HDCP
Ladies' HDCP
Red (M:63.7/106 W:68.6/107)
Silver (M:59.8/97 W:61.5/95)
Hole 10
Hole 11
Hole 12
Hole 13
Hole 14
Hole 15
Hole 16
Hole 17
Hole 18
In
TOTAL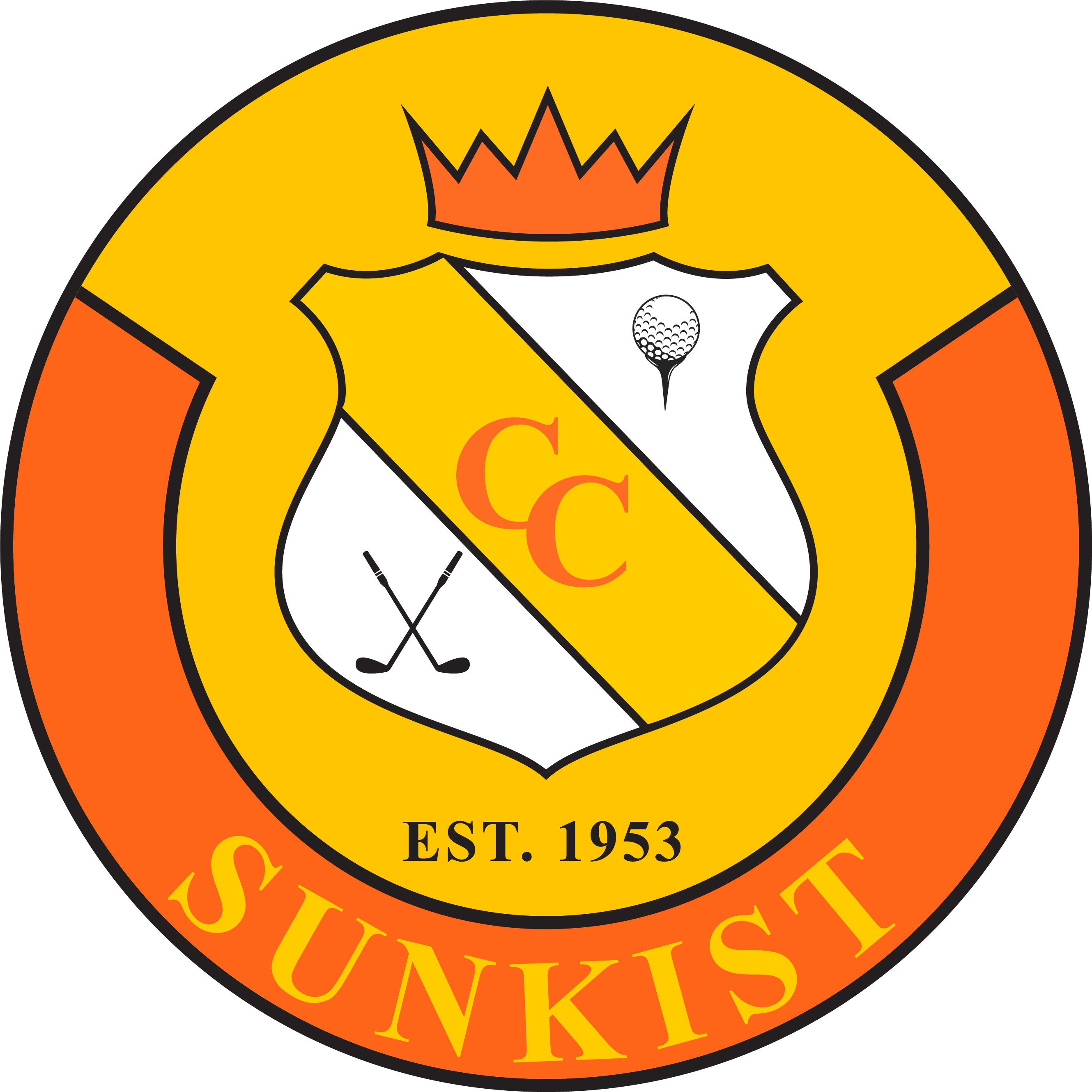 Professionally managed by Bloom Golf Management